Most SEO experts consider SEO as an efficient tool for tracking and verifying backlinks. However, this is not the only use of this wonderful tool. It is simply amazing and can render more rich functionalities.
So, I am going to share with you what all Ahrefs can offer and why it is an excellent SEO tool through the way of this post.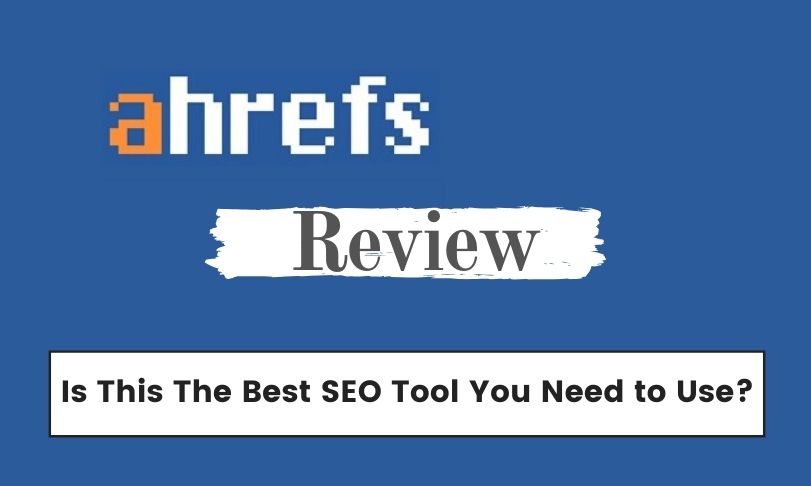 Ahrefs Review – An Overview:
Ahrefs comes with a huge data index, which makes it a sought after SaaS tool in the market. Using this tool, a lot of SEO experts and website owners have been able to combat black hat SEO techniques, which are considered unethical by Google. It has not only made SEO simpler and sought-after but also enhanced the practice among the industry.
Though there are numerous SEO tools available that assist in various SEO functionalities, but Ahrefs too is a great tool, which can cater to most of your SEO requirements, such as:
It lets you strategically select topics for content
It lets you search the right people for your content
It allows you to identify people that you must reach out to
It helps in managing the website
But this is not it! Ahrefs can serve you in more other ways. So, check my detailed review of Ahrefs.
Features and Functionalities of Ahrefs:
When you visit the Ahrefs' website, you will see its homepage that clearly showcases the various features and functionalities offered by this tool. Also, you can see the data index as well as a few snippets of testimonials that are mentioned by real SEO experts from all across the world.
One good thing about Ahrefs is that you don't have to spend money right away in order to try and test it. It offers free trial valid for 30 days, which can be checked to see whether it meets your requirements or not. You can check their homepage and click on the option 'Begin Free Trial' in order to try this tool.
To begin, you have to sign in and provide some of your details and soon you will be taken to the dashboard where details for new projects can be entered. With the help of this dashboard, you can easily monitor the progress of your old projects.
The best part is that you can even handle multiple projects at once using its dashboard. This dashboard displays an overview of each project or website. Some of the important details of your project or website displayed on Ahrefs' dashboard are as follows:
DR or Domain Rating – It is a scale, which displays the overall backlink profile strength of your website. This scale measures your website from 1 – 100. The higher DR value ensures a better performing website.
Ahrefs Rank – Next, you can see the Ahrefs rank for your project or website on the basis of the quality and size of the backlink profile. This rank keeps on changing frequently as sites constantly enhance their backlink status. If you are not competing with the backlink profile, you may lose Ahrefs rankings for your website.
Backlinks – This particular field displays the number of total backlinks, which point to a particular site. This can be your own website or the website of your client.
URL Rating – The URL Rating for any website is quite similar to DR, with only one difference. The URL rating measures the strength of a single backlink profile and if your website has a higher URL rating, it has chances to rank higher in the Google Search Engine Results Pages.
Targeted Keywords – This particular field displays the overall performance of the targeted keywords over a particular timeframe.
Organic Keywords – This field displays the total number of keywords for which a website ranks in the top-ranking 100 search results. It does not take the location factor into consideration.
Referring Domains – The referring domains are quite similar to the backlinks data. It displays the total number of domains, which point to a particular URL or website.
While these are some of the basic features displayed on the Ahrefs dashboard, there are more other sections that are showcased on this tool.
Let's have a closer look!
Backlink Profile:
It is an excellent feature from Ahrefs, which is ideal for SEO experts and link builders. This feature displays a comprehensive list of data about your website's backlink profile. Here, you get complete details of your site's backlink profile.
You can know about the nofollow, dofollow, broken, lost, and new links of your profile along with details of other links in your site.
When you look at the backlink profile of your website, there are various filters available. You can use them in order to avail of results as per your choice. The prominent filters are:
Link Type
All Links
One Link for a Domain
Group Similar Links
Languages
Platforms
In addition to these filters, there is also a search bar that is useful to find particular links, referring domains, or anchors.
Moreover, there is an added benefit of using this tool, which is their 'Fresh Index' and 'Live Index' feature. This feature showcases backlinks, which are found by Ahref's crawler. The core difference between these two features is that the Live Index is regularly updated every 15-30 minutes and it displays live links on your website. On the other hand, Fresh Index is updated after a long time duration and showcases dead links that offer you the opportunity to change or reclaim dead links.
Both these features are unique to Ahrefs and have their own benefits. Personally, I prefer using Live Index as it let me regularly check link updates on my website.
Referring Domains:
There is one more function integrated into the section for the backlink profile, which refers to data for Referring Domains.
This particular section showcases the total number of sites, which link to the domain that you have entered into the search bar. Also, you can check the lost and new referring domains through its calendar view functionality that is really fast and saves a lot of energy, time, and effort.
As soon as you click on the option 'New' and scroll down, you will see all new referring domains. This calendar also displays the option 'Lost,' clicking on which you are able to see all referring domains, which are lost.
Referring domains are of great help for SEO campaigns, particularly for the link building campaign as it allows you to check all domains, which are removed from the link. Also, you can contact Ahrefs' webmaster to check if you can reclaim the links, which are lost. This way, you always have scope to enhance your outreach as well as overall link building campaign.
Referring IPs, Top Referring Content, and Anchor Texts
The Top Referring content showcases the popular pages, which link to the target website. This feature determines the page's popularity through various social shares it holds.
It is of great help for the SEO campaign as you can know about the website or webpage, which comes with decent social media following. Also, you can partner with the content providers to get more links and boost your site's backlink profile.
The next great functionality served by Ahrefs is Referring IPs, which shows the report for referring domains. It also shows the network to which these links belong to. Most importantly, it displays the number of backlinks with IP.
Last but not the least, Ahrefs offer the functionality to display all anchor texts, which are used by the referring domains to link back to the target website. It showcases all important details, which you must know like the domain that uses anchor as well as snippets where backlinks are located. Additionally, it offers the ability to filter out results to locate a particular anchor.
Site Explorer:
This particular section gives you an overview of your entire website and using it you can easily find everything about your site. From graphs, numbers, to images, you can check each and everything of your website along with the changes that are occurring with your site.
It is of great use to SEO professionals as it allows them to make changes on the spot. Also, the data offered lets you instantly know what you can do for enhancing the performance of your website.
Ahrefs regularly update the data, which is displayed.
Organic Search:
This is another great section that allows tracking and managing keywords. It gives you complete details of the entire data you wish to determine if the efforts you are putting for targeted keywords are enough or you have to implement more innovative techniques.
Content Gap:
The content gap is another amazing feature that lets you have complete control over the campaign. Using this feature, you can gain more details about your website's content. It offers you various options to determine the keywords that your competitors rank for and so you can always have an edge over them.
Hence, the content gap gives you the ability to win over your competitors by having a clear understanding of keywords for which they are ranking higher.
Organic Keywords:
This is another section of Ahrefs, which is great for tracking organic keywords for your website. It allows checking the movements of targeted keywords by clicking on the Movement button. To determine the keywords that have ranked higher in the top 50, you only have to click on the option 'New.'
This movement section shows the movement of keywords and also displays links, which were lost on a particular date.
Export:
The export feature includes the data, which is available in the section for Site Explorer. You can download the information in the form of a report in PDF or CSV format.
Features to Monitor Website:
There are numerous features in Ahrefs using which you can easily monitor the overall performance and various aspects of a targeted website.
Best Content – This list mentioned your content page ranking on the basis of social media shares across different social platforms such as LinkedIn, Twitter, Pinterest, and Google+.
Top Pages – This feature shows the page ranking on the basis of traffic brought by them to your website.
Paid Search – This section lets you monitor the success of paid campaigns including Google Ads and PPC.
Outgoing Links – There are different sorts of reports generated using Ahrefs, which focus on various aspects of outgoing links of the targeted websites, such as Anchors, Linked Domains and Broken Links.
Top Landing Pages – It is a list, which manages the ranking of landing pages of the targeted website.
Best Pages – This report is generated considering the various aspects of page ranking such as the number of shares on social media, backlinks attracted and the total number of backlinks.
Competing Pages and Domains:
This feature presents a comparison of unique words used by your targeted website and unique words used by your competitor's website in the form of a report. Also, it lists keywords that are common to both websites.
The pages or websites mentioned in the list are common keywords, which are shared with the competitor and which rank in the top 10 search results.
This data can be used to refocus your money and efforts on keywords, which are important.
Keyword Explorer:
This particular tool mentions details about keywords in your website in a clean, organized and structured manner.
Knowing about the performance of keywords on your website can boost the website's efficiency to a great extent.
Content Explorer:
This feature by Ahrefs is great for skyscraping, topic generation and to know about trending topics. It shows every minute detail instantly and you can even check the results for different filters.
Rank Tracker:
This new tool has been recently added and can improve the SEO campaign to a great extent. You only have to enter keywords in the section and it will display the details of keyword ranking.
Bonus Features:
There are more other features by Ahrefs, which are of great help to SEO experts.
Batch Analysis
Ahrefs Rank
Link Intersect
Apps
Ahrefs API
SEO Toolbar
Domain Comparison
Final Verdict:
Ahrefs is an excellent tool for not only beginners in the SEO field but also for those who have already made a mark in the field. It comes with a user-friendly interface, which is simple yet comprehensive. The various features offered by it make it a comprehensive tool perfect for both big and small SEO campaigns