These days, affiliate marketing is the most convenient way of earning money for bloggers. Bloggers use famous social media websites can also play the role of platforms for the purpose of marketing programs.
Being a blogger, affiliate marketing is comparatively less complex than traditional sales models, as in the former case, affiliates don't have to carry that much load of responsibilities. Also, there is no need for you to offer your goods or services for sale. You just have to undertake promotion of the merchant's products on their sites.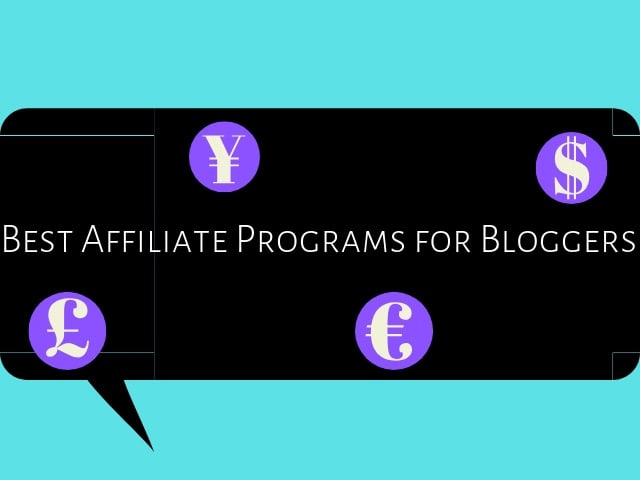 In the case of affiliate marketing, it is the merchant who manages the logistics involved in the sale of goods and services. These involve processing orders, taking care of payments, shipping, etc. The affiliate's only job is to receive a commission based on the previously set terms and conditions.
The important part for the affiliate here is to choose the right program. In other words, you should do thorough research and then choose the most trustworthy program.
Best affiliate programs for bloggers and blogs:
1. LinkShare:
LinkShare is said to be the largest of all the affiliate networks present out there. Most bloggers reach for this website. It has affiliate partnerships exceeding 10 millions. It offers as many as 2,500 affiliate programs to its partners, giving them an opportunity to choose between:
Getting all the aspects of your channel controlled for you, or
Having the control of your program in your own hands, using the service and support of the company.
LinkShare has been the number one affiliate marketing network since the last 7 years. This acts as an assurance that LinkShare has considerable strength as a platform, internal capabilities, and a proficient support system.
2. Commission Junction:
In North America, Commission Junction is the largest affiliate marketing network. Although it operates globally, it has a major focus in certain parts of North America.
Being California-based, Commission Junction was successful enough to secure the second top spot in the Blue Book of Top 20 Affiliate Networks in the year 2012.
It is highly known for being exceptionally good at balancing the links between its merchants, affiliates and networks. Pay-per-action and PayPerCall are the two programs offered by Commission Junction to help the affiliates monetize their ad placements, and also to help them spread out their promotional campaigns.
3. ShareASale:
ShareASale has been in operating worldwide for more than 18 years now. It was given such recognition for having the best overall performance in marketing network all over the world.
The company has its base in Chicago, the company has excellent reviews and ratings. This all has been made possible due to its fast and responsive customer support services, company's ethics and values, ease of payment of commission, etc.
4. Amazon Associates:
Having a huge number of affiliates, this company offers a pay-per-sale affiliate program. It is widely known for offering a vast range of products all over the world.
You can choose any product from this large variety to suit your niche and monetize your blog.
Being a large and highly diverse program, the facilities offered by Amazon Associates often surpass the ones offered by many other big networks present.
5. Google Affiliate Network:
The affiliates of Google Affiliate Network receive a commission for the conversions driven by them. It is a pay-per-action network and requires the affiliates to have a Google AdSense account. This is set to be a requirement to make matters of ad posting and payment simpler.
Google Affiliate Network is highly accomplished to help the publishers monetize traffic.
6. Expedia.com:
It is one of the largest travel sites of all, offering programs to affiliates for the promotion of products, in order to receive commission payouts and monetize their blogs.
The most famous of all the agent programs is one known as TAAP, which is basically meant for travel agents.
As an affiliate, you can earn a commission ranging from 10% to 15% on the basis of your performance.
7. MaxBounty:
It is a leading affiliate marketing network, compensating affiliates on a cost per action basis.. MaxBounty pays commission to the affiliates on a weekly basis.
The reputation and company's strength is comparatively high as compared to companies of the same scale. It was founded in the year 2004, coming up with the promise of paying a higher commission to its affiliates.
8. Shopify:
With Shopify, you earn a commission on the basis of plan subscriptions you bring for the company. In other words, it is a platform which creates eCommerce stores with a high conversion rate.
You can earn an average of $598 with Shopify on standard plans. If you go for Shopify Plus referrals, the commission might reach as high as $2000.
9. ClickBank:
If you own a niche which suits a digital range of products like software's, ebooks, and membership sites, then ClickBank is the right affiliate program for you.
There is weekly payment of commissions which can be as much as 75%, varying with different products. The facility of direct deposits is made available to the affiliates.
The company enjoys the reputation of an A rating and has remained popular in business throughout its existence.
10. ClixGalore:
Operating worldwide, ClixGalore has its main offices in Japan, US, and UK. Originally, it is based in Australia and is a pay-per-action affiliate network.
Apart from pay-per-action, the company offers various other programs to its affiliates like
Pay per impression
Pay per lead
Pay per scale, and
Pay per click
The payment of commission is made in US dollars. CitiBank, BluHost, TimeLife, Fox Sports Shop, etc are some of the popular brands that have a partnership with ClixGalore.
11. Booking.com:
If you own a travel blog, then this is the ultimate choice for you. Booking.com is one such company which offers the highest commissions to travel bloggers.
Being the biggest of all affiliate programs, Booking.com gets as many as 1,550,000 rooms reserved in a single night! That being stated, it is obvious that this company offers a huge potential to affiliates to monetize their blogs.
For the start, you get a commission of 25% with Booking.com. This rate gradually rises as the number of reservations increases.
12. Walmart:
Walmart is one of the largest retail stores all over the world. It has stores exceeding 10,000, spread over 28 countries. The store features a wide range of products fulfilling almost all needs of customers. Be it a toy or furniture, you will find it at Walmart.
Being an affiliate, you will get a free membership. The rate of commission for the start is 4%. This will vary from product to product.
The commission is paid to the affiliates on a monthly basis and does not include the following:
Returns
Shipping charges
Handling Charges
Sales tax
Apart from offering a wide range of products, Walmart also features a great customer support service.
13. eBay:
eBay has an incredible global reach with around 13 websites in different countries. It offers commission ranging from 40% to 80%, varying with the different products.
eBay offers category specific bonuses and seasonal promotions to its affiliates. It also has a dedicated affiliate support system.
14. BlueHost:
It is one of the largest web hosting platforms of all, and offer very generous commission payouts to its affiliates. The reputation of the company is so exemplary that WordPress itself recommends it to all the users.
The affiliates get $65 for each visitor who signs up to Bluehost hosting network. Bluehost is free to join and offer a sixty-day cookie policy in order to help you increase your affiliate commission.
You can make unlimited earnings joining BlueHost. The payment of commission is made using PayPal.
15. DreamHost.com:
DreamHost.com was launched in 1997. Till date, it has 1.5 million hosted websites, and more than 400,000 customers. The hosting services offered by them to the customers are pretty upstanding.
DreamHost.com offers attractive commissions plans to entice affiliate marketers. With this company, you can earn as high as $120 per referral.
The payments are made after you have crossed the minimum limit per month. Payment transactions are processed using PayPal. Dreamhost.com also gives already made banners for the promotion of their goods.
16. ConvertKit:
The payouts offered by ConvertKit are pretty high as compared to other domains. The company was launched about 5 years ago, and since its inception, it has made visible developments.
It was originally created by bloggers and has global recognition. Affiliates get a commission up to 30% on every sale made. There is no minimum payout limit set by the company. You get paid even if you make as low as a single sale.
The payouts are made once every month. Being the most rapidly expanding email marketing software, ConvertKit is increasing its customers day by day.
17. Magix:
If you own an entertainment blog, then Magix is the most convenient affiliate program to earn money. With Magix, you can find comprehensive solutions for all your needs relating to the creation and presentation of music, videos, websites, graphics, and photos.
A minimum of 20% commission is paid to the affiliates for each order generated. This amount is exclusive of any cancellation prices. The payment mode used by Magix is PayPal.
The company policy requires you to reach the minimum sale threshold in order to receive payments.
18. Coursera:
Coursera is one of the most popular educational platforms online. It offers a wide range of online courses to students all over the world.
As an affiliate, you can choose any course from this large variety and use it to monetize your blog. Each sale that your affiliate link will generate will earn you a commission of 45%.
The payment for each course will be made within 30 days of the course sale. The payment mode is Pay
The text links and course banners are already generated by Coursera. There are 2000+ courses you can choose from.
19. BodyBuilding.com
This is the largest website offering nutrition cum sports supplements. In addition to this, it is the most visited fitness site, having more than 1 million visits per month.
The large variety of nutritional supplements offered by BodyBuilding.com gives you an opportunity to earn high commissions as an affiliate.
Their commission policy is as follows:
Up to 15% commission on various products, including cookie duration of 9 days.
15% commission if the sale is made to a new customer.
5% commission if the sale is made to an existing customer.
For the advantage of affiliates, the minimum pay limit is only $25.
20. Boohoo:
This one is for fashion blogs and bloggers. Boohoo.com is one of the most popular online fashion retailers. They add more than 100 products daily to their collection.
Boohoo.com offers various special offers and opportunity regularly to help you make money easily. They have a 20-day cookie policy.
Signing up with Boohoo.com is absolutely free. The payment is made using Paypal with a minimum commission being 7%.
21. The RealReal:
Based in the United States of America, this is one of the best online luxury consignments. The management of The RealReal is very diverse, having more than 500 employees.
This is a worldwide operating website, shipping their products in every country. The commission mechanism of The RealReal is very lucrative, attracting new affiliates day by day.
The affiliates are paid 5% commission for every sale made through their affiliate link, while they are given a bonus of $50 for referring every new customer to The RealReal. 7-day cookie policy is followed by them and payment is made through PayPal.
These are some of the most trusted affiliate programs for you to choose from. Before picking any of the above programs, it is important that you carry out proper research and read testimonials and reviews, and clearly calculate the level of suitability they offer to your blog. Happy blogging!