The various tools introduced by Google have been quite helpful for people to not only connect on a personal level but to generate better business opportunities along with building money earning channel.
In fact, blogging started as a simple tool to share personal life and ideas which gradually turned into an effective marketing tool. Now Google has given opportunities to these bloggers to be able to earn money with their blogs, this is where Google Adsense comes in.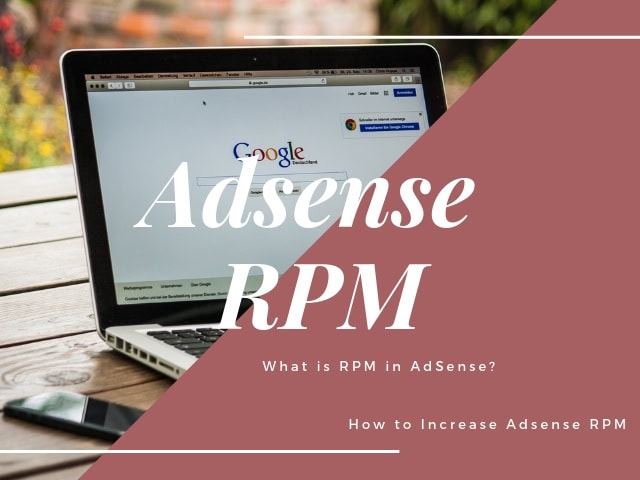 Just by inserting an Adsense code on your blog, it allows you to connect to a Google channel. This is helpful if someone wants to show their ads online, then your blog will feature as a platform for these advertisers.
Depending on the number of impressions and clicks your blog gets, advertisers then pay you a certain amount to be able to show their ads on your platform.
Having a good understanding of the technical aspects of Google Adsense becomes important as this is helpful in working on your blog. Further, we will discuss one such important term RPM and how to improve it.
What is RPM in AdSense?
RPM in Adsense means Revenue per 1000 impressions which gives you estimate earnings when your ad gets 1000 impressions. RPM does not explain the exact earning but provides you an approximation, which is dependent on the number of page views, impressions, which is further multiplied by 1000.
RPM=(Estimated earnings / Number of page views)x1000
Example,
If your blog has earned $0.30 from 30 page views then the RPM is calculated as below:
RPM= (0.30/50)x1000
RPM=$10
RPM is mostly used in advertising to understand the revenue earned on various advertising platforms.
Therefore, if your blog achieves high CPC, RPM and CTR it is then you will earn well from Google Adsense.
How to Improve RPM:
Adsense RPM is an essential factor for you to earn good money from Adsense. Improving RPM consistently is needed to earn better revenues. There are a few steps which are helpful in higher RPM for your ads, few of these steps that can be followed are mentioned below:
1. Use the right ad sizes and position:
Using the right dimension of ads and finding the right place on your website can be quite tricky, sometimes it may require trial and error on your part to figure it out.
As per some research, ads which are placed on the content works better. Or if the ads are placed on top of the page also generates a high number of clicks as it is easily visible. Using link based ads are highly efficient than the banner ads and they are optimized correctly then they bring in higher revenues.
While planning your blog for the purpose of using Adsense ensure to do research on the places on a page where visitors spend most of the time. Then accordingly, you can create a theme based website and your ads will not look out of the place.
There are certain ad dimensions which work the best for advertising, the best ones are given below.
Best ad sizes:
• 336×280
• 300×250
• 728×90
• 160×600
2. Adhere to Google Adsense policy:
Before you plan to use your blog or website for advertising, ensure to follow the policies set by Google Adsense to achieve approval. Many people don't think it is an essential step to go ahead with. Below are few of these guidelines which when followed will ensure a good way to generate revenue:
Prevent using paid traffic.
Prevent from encouraging others to click on the ads.
Avoid clicking your own ads.
Avoid changing the IP address and then clicking the ads.
Prevent from sharing adult or illegal content on your website.
Prevent from placing ads on the blogs whose languages are not on the list of Adsense.
3. Focus on search engine traffic:
To get revenue from your website, having good traffic is important. The main factor here is that Adsense prefers traffic leading to your website when it comes from organic channels rather than the paid ones.
Many Adsense users complain of low revenue generation despite having a high number of impressions and clicks. Adsense considers the traffic source while calculating your revenue. Look for traffic from the countries where they pay a high value for the keywords and focus on them. With some basic research and understanding, this can be achieved.
4. Use high-quality keywords:
Adsense shows ads on your site, which are relevant to the topic or niche you cater to. For example, if your blog talks about fashion, then Adsense will show ads related to fashion products. If your blog is targeted to a specific country then Adsense will show ads related to that country only.
Therefore, use the right keywords which can generate higher traffic leading to higher revenues to your blog. You can use various keyword research tool available online that can help you find the best keywords, which you can use on your blog.
5. Prevent too many ads:
Another best way to achieve higher revenues in Adsense is to ensure to remove ads which are less significant than Adsense. Keep a strategic approach to your ads when placing it on your blog or website. Remove the ads which are not relevant to your website.
If you have ads from other channels and sources other than Adsense better to remove it before you look for Adsense approval. Another benefit of removing extra ads is that it will increase the load time of your website, hence, a positive point for Adsense to consider.
6. Test with different target locations:
By using Google webmaster tool, use the location targeting option, where you can experiment with the different locations. Try targeting countries like USA, Canada, UK or Australia as these countries generate better Adsense revenues as compared to Asian countries.
Also, do good research on what are the keywords primarily used in high paying countries as this will enhance the chances for you to earn more.
7. Go to a responsive website:
Nowadays the majority of the people are using mobiles and other devices to see a website other than using a desktop. Maybe they are simply browsing the content while traveling or at any other time. Having a responsive website generates an opportunity where people can easily view your content.
If your website is not responsive then the ads will also not be responsive, which leads to the fact that people avoid reading your content. Google Adsense appreciates responsive site as this works best to increase the revenue of your website. If your website lacks the responsiveness then you will be losing out on the revenue day by day.
8. Write on high paying niche:
Whatever the overall content your blog caters Adsense works well for it. Yet there are certain niche and areas of topics which pay a lot more in Adsense as compared to others. It may be a tricky situation to write on it, but with good research and keeping the basics of SEO and writing will be good to generate definitive revenues. Here are a few popular niches that you can write on:
Insurance:
Since there is a tough competition between insurance companies to get the highest website traffic, therefore, this niche generates the highest amount of revenue from Adsense. If you are just starting a blog, then prevent from writing on this because it is difficult to get a good ranking on Google.
Mortgage:
People lack the knowledge when it comes to mortgage, therefore, many brokers ensure that their business writes on this topic to keep the public informed. In fact, a mortgage is the second highest CPC keywords, hence, generating high revenue in Adsense.
Health and Wellness:
Health is another favorite topic which most of the people look into. Therefore, it is another topic where Google Adsense generate good revenues. Before thinking to write in this niche, ensure that you have the right knowledge to write about it as it may lead to legal troubles if any incorrect information is conveyed.
9. Publish trending content:
Publishing fresh and trending content brings lots of traffic to the website. In fact, Google likes a website to be updated with fresh and newer content. If you copy the content or plagiarize it, Google will penalize your website.
Do good research and keep yourself updated with the latest topics in news relevant to your website content. Create good content with reference to the latest topic. Also, ensure that the language used in the topic is easy and readable for your readers and free from complicated jargons.
10. Be consistent in posting the content:
Content is what brings traffic to your website and generates conversion. More importantly, it is essential to update your website with content regularly. Plan how to intend to publish it on your blog, it is advisable to create a content calendar and plan it before to prevent from last minute concern. Another important point to note is to ensure that your content is free of grammatical and spelling errors as it will hamper your indexing and ranking on search engine.
Don't forget to use the right keywords and follow the necessary steps on SEO. Consistent efforts of sharing the content will be relevant in increasing the revenue for your blog.
11. Use Adsense referrers:
Another best way to improve your RPM is to use the Google network wisely. If you connect Adsense account with Google Analytics, you can learn about the average daily income that can be earned from various channels:
For example, it will provide you information about how much you can earn by promoting the blog links on Facebook or Youtube. By using Google Product Monetization, you can find the right information based on each platform. Below are some of these products:
Youtube video:
Try to create quality video content for a YouTube channel as this helps to increase the income through partnering with Youtube Monetization program to Google Adsense.
Using AdSense on RSS Feed:
If you have a good number of subscribers on Feedburner, then use Google Adsense ads on RSS feed as this helps to increase the revenue.
Google custom search:
Google custom search is sometimes used to find a specific content on a blog or website, therefore, placing your ads to the right of search results benefits in revenue generation.
12. Use Analytics:
Having the right analytical tool in place with your good Adsense is a major requirement, The right data and correct information are helpful for you to understand the changes you may need to bring in your website.
Therefore, it is good to link your Google Analytics with Google Adsense. As Analytics will be helpful in identifying which pages of your website are bringing more traffic and that you can focus on to earn good money.
If there has been a drop or spike on a search engine, then Analytics tool becomes essential to understand the reason for the same. It allows you to know the immediate changes taking place and then you can easily tweak the necessary data around it.
The suggestions and tips mentioned above are just a few, to begin with. If you are really serious about improving the RPM of your blog and intends to earn good money then work out various other ways and learn which method works for you the best.
The higher traffic your website or blog gets, higher the conversion rate leading to higher revenues earned. Do good research if you are just starting to use Adsense, read what were the things which worked for others and learn from others failures.
It is a continuous effort which is required where you need to improve your website, work on its content and find the best ways to your requirement. Also, one need to understand the working with Adsense is not a short-term goal, it requires patience and consistency to deliver beneficial results.