With the digital world evolving and blooming more than ever before now, the whole world is hooked on to their phones, tablets, and laptops. That is why digital media is fast evolving to become one of the most bankable medium worldwide. While it is true that nothing can replace print ads and TVCs, no one can deny the fact that advertising on digital media is becoming the ultimate goal day by day.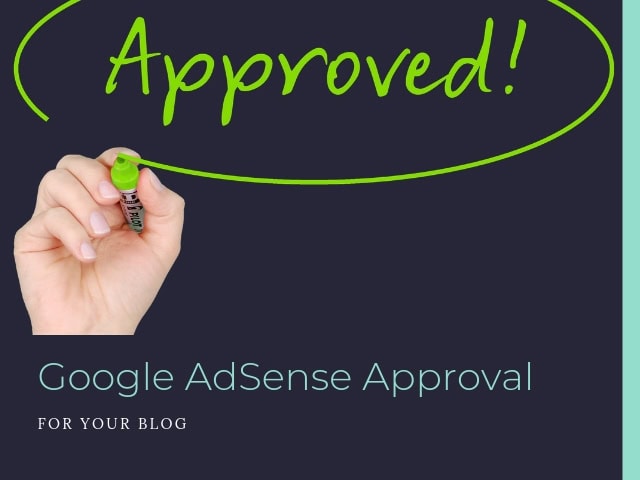 For all blog owners and website owners who have just started out, they know the importance of ads on their pages. That is where the role of Google AdSense comes into play. When you as the owner of a website, are placing an ad on your page, everything matters. But as all digital media people know, getting a Google AdSense approval can be quite of a task. So let's discuss step by step on how to get a Google AdSense approval for your new blog or website. But first, let us get an idea of what Google AdSense actually is.
What Is Google AdSense?
In simple terms, AdSense is an advertising placement service by Google. It works for website owners who want to publish advertisements in any form on their webpage and then earn money when a user clicks on those ads. These ads that a website owner is publishing on his pages are managed by Google itself. The website owner needs to create an AdSense account with Google then copy the code from there and paste it to his site in order to display the ads. The revenue that is generated from the ads is on a per click basis. So then the website owner shares a part of the revenue with Google and keeps the rest for himself. That's how one earns from Google AdSense.
Google launched this service back in 2003. It is now one of the most famous and popular advertising programs in the digital advertising world. It is the ultimate opportunity for website owners to make money out of the traffic they are getting. The best part about Google AdSense is that it has a huge number of publishers and advertisers. Then Google acts a medium between them, thus ensuring high security for both the publishers and the advertisers.
As mentioned before, AdSense works on a per-click basis. When a user clicks on an ad on the website they are visiting, it generates revenue for the publisher. Google gets about 32% of the revenue and the publisher takes home about 68% of the revenue that is generated from users clicking on ads. The revenue that is generated can range between 0.20$ to 15$, though, depending on how much competition the website faces in that niche. Mostly the revenue generated is less than one dollar per click.
Hence, the main task of a publisher is to get as many clicks as he can, for more revenue. However, Google has a very strict policy against fraud clicks. So refrain from clicking on your own ads or encouraging users to click on ads. In such cases, if Google finds any suspicious activity, it blocks your AdSense account.
But for all these to happen, website owners need an AdSense approval from Google to be able to earn through per-click basis from advertisements on their sites. So, how does that happen?
How To Get AdSense Approval From Google?
Google might seem to have quite strict policies to approve an AdSense account to website owners and blog owners at first, but they are quite simple actually. You just have to adhere to the guidelines given below and follow them strictly at all times. Moderators at Google approve the sites and blogs that meet these guidelines.
1. The blog should be rich in content:
The blog that you are sending to be approved should be very rich in content. This is the time when you actually have to follow the proverb 'Content Is King'. A lot of website owners copy paste content from the web to their blog posts to build up the website faster and make it heavy with content. Google AdSense does not approve copy-pasted content and it will immediately reject that approval. The perfect blog post should have 100% unique content and at least 500 words in length. That makes the website rich in content and easier to get the AdSense approval.
2. Meta tags and SEO friendliness is important:
While publishing your blog post, do not forget to optimize it with meta title and the description tag. The meta tags summarise the content in a few words and help Google bots to decide what the article is about. It is not possible for the editorial board at AdSense to review each and every post from the thousands of websites that apply for AdSense approval every day. These Google bots decode the meta tags and tell what the post is about. So skipping this part of publishing a blog lessens your chance of getting an AdSense approval.
3. Have enough number of published posts before applying:
While the content has to be rich in quality, it has to be rich in quantity too to get an AdSense approval. At least 30 articles should be published on your website before you apply for AdSense approval. Have around 4-5 posts under each category, each being of an ideal length of at least 500 words. While this is not an official rule by Google to have a minimum of 25-30 posts, but it helps you get noticed and get the approval faster.
4. Be very particular about the images you use on your website:
A lot of people use images from the web on their website without checking if its copyrighted content. Not putting enough thought before using an image will not get you the AdSense approval. If you are using a downloaded image at all, make sure you mention the source in your posts. Copyrighted content never works.
5. Do not underestimate the importance of the 'Privacy' page on your website:
A lot of bloggers argue that having a privacy page for their blogs do not make any difference. But they do. The first thing you will need to build to be able to apply for an AdSense approval is the privacy policy of your blog. Google AdSense requires it to make sure that your website is not any kind of scam and you are in a serious business. Google goes ahead with the rest of your application only after it is satisfied with the privacy policy. It straight away rejects applications of blogs that do not have a privacy policy. If you think that writing such long pages of the privacy policy is not your thing, you can always generate it online. It hardly takes much time.
6. There has to be an 'About Us' page:
Even if you are a single blogger and write your own posts, do not forget to have an 'About' page on your website. The next thing that Google looks at after looking at the privacy policy is the 'About Us' section of the website. Google will again right away reject your application if they don't find this section on your website.
7. The 'Contact Us' page is as important as the other two:
Give any contact information that you are okay with. Email ids, Facebook ids, or an official phone number, anything will do. When you set up a contact page, it not only helps you get the AdSense approval, but honest feedback from readers will help you get better each day. What Google AdSense sees here is whether you actually care about your readers and ready to help them or not.
8. Age is an important factor while applying for AdSense approval:
Make sure you are above 18 yrs when you are applying for the Google AdSense approval. The good thing about AdSense is that you can apply to it a number of times even after your application gets rejected. A lot of times the applications get rejected because the applicant is not 18 or above. So, make sure you don't make this mistake.
9. The blog design plays an important role in helping you get approval:
Even the design of the blog that you are applying to get an AdSense approval will play a very important role. Google likes to see clean pages with faster page load speed. Having a messy webpage with too many things stacked won't get you an AdSense approval. Keep the design minimal and very professional. A good design immediately makes a good first impression. Make sure your blog design has all of the following features-
It should have a simple interface while displaying all the necessary sections and categories that Google needs to see.
Professionalism is the key to the design aspect of your blog or website.
The categories or menus that you decide to display on your webpage should be clear and crisp.
Do not include useless items in the footers or sidebars on your website.
Your website should be search engine friendly. Take extra care of SEO elements before you apply for AdSense approval. If your website pops up among the first few choices in a search, that would make Google happy and enhance your chances of getting that approval.
Last but not least, your website should have fast loading pages. When your pages are too heavy and take more than 3-5 seconds to load that drives away traffic from your website. That is not what Google would want.
10. The kind of content you publish on your website matters too:
Not just the quality or quantity of the content, the kind of content that you are publishing matters too if you are applying to get an AdSense approval. Pornographic content, pirated or copied content, any kind of illegal content, any hacking of code cracking tutorials, content about illegal drugs etc. are not going to get approved by Google.
11. Do not resort to paid traffic for your website:
If you want to get Google AdSense approval, never resort to paid traffic for your website. Google penalizes those websites that generate traffic through payments and then makes sure that those sites can never apply for AdSense approval. So, the best option is to generate natural traffic. Make the best use of search engines and make your website rich in SEO to bring in traffic. That increases your chance of getting approved.
These are all the things you need to keep in mind before applying for an AdSense approval. But many times it might happen that your application still might not  get approved. That's not something to worry about. Here are two things you can do.
When your application is rejected, you receive a mail that states all the reasons why your application was rejected. You can rework on the aspects and make your website ready for applying again. As already mentioned earlier, there is no limit to the number of times you can apply to Google to get an AdSense approval. You can keep applying until they finally give you an approval.
The other option is to apply to other ad networks which are high paying and as trusted as Google AdSense. The best part is that getting their approval is not as tough as getting an approval from Google. So these networks are easier to get approved by, and they pay quite high to. Win-win for you!
So now that you know everything that you have to do to be able to apply to Google AdSense and get approved to earn through advertisements, build your website accordingly. The guidelines that are mentioned in this article should be strictly adhered to. Make sure you check and recheck your website a couple of times before you apply.