Are you looking for the best email automation and marketing platform?
I would like to introduce to you ActiveCampaign, an efficient email marketing and automation platform designed to serve email marketers who do not want to compromise on features, performance, and still want to save budget.
ActiveCampaign is not a newly introduced platform and has been into existence for years. But it was earlier not much buzzing as now withholding more than 90,000 small business users.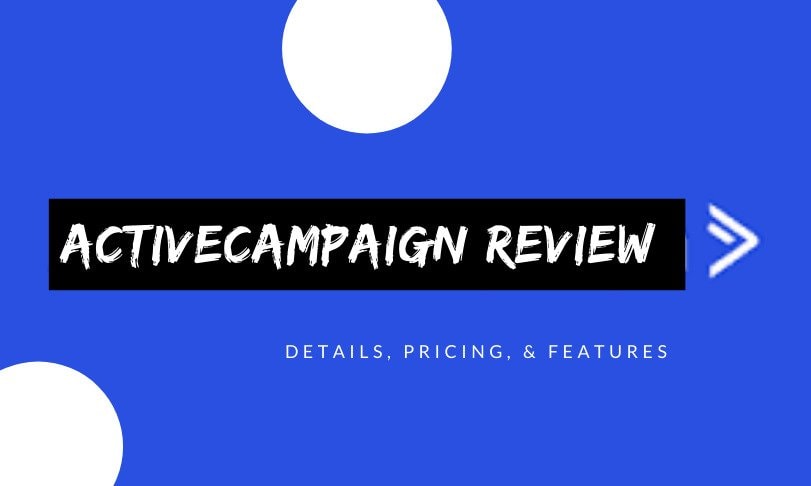 If you too are a small or single business owner and want to know how ActiveCampaign can benefit you, in this post, I am going to tell the same.
So, let's start!
ActiveCampaign Overview:
ActiveCampaign is an efficient marketing automation tool that offers both free and paid versions. It is built-in with CRM but offers automated rules and workflows. The best thing I liked about ActiveCampaign is its deal pipelines, which are designed especially for agile to sales.
Here, how it works!
1. Break Sales Funnel into Levels:
ActiveCampaign lets you build a deal pipeline that breaks the complete sales cycle into a series of levels. As a result, you can visualize the levels, which you must deal with to get through in competition.
2. Design a Deal Pipeline Exclusively for Each Client Segment:
You would not want to positional your entire deals in one pipeline. These deals can vary a lot and serve differently to small business customers and enterprises. ActiveCampaign lets you create multiple deal pipelines to build varying pipelines for the different audience segments. This makes it easy to view all leads in the varying categories as well as compare reports within each category.
3. Leave No Hanging Leads:
Furthermore, this platform lets you conveniently see the leads, which don't have any task assigned to them. This too is offered by Salesforce but with a different approach and you can still train the sales team to make sure that every lead holds a task assigned to it.
4. Assigning Deals:
ActiveCampaign lets you auto-assign deals to varying salespeople. The deals can be assigned on the basis of value, unique approach, or can establish the automation rules to people on the basis of different criteria including the lead type or geographical location.
5. Lead Scoring:
It is one of the most promising features of ActiveCampaign that can break or make the entire process of sales. When established correctly, it generates clarity around the leads that people must focus on. Also, it lets you know how good your marketing team is performing for turning cold leads into potential leads.
It is very easy to setup lead scoring in ActiveCampaign. It makes it very much convenient to establish clear KPIs for sales and marketing. It lets you identify whether that percentage of leads, which you want to convert into marketing qualify to sales lead or not or is decreasing or increasing, and more.
Now, this is about ActiveCampaign's Deal Pipelines. Let's see how it works as a marketing automation tool.
ActiveCampaign – Marketing Automation:
Undoubtedly, ActiveCampaign is one of the most intuitive and visual marketing automation platforms I have checked. It comes with an automation sequence with virtually no training.
Some of the ways you can use to systemize your marketing automation process in ActiveCampaign are as follows:
1. Long-term and Short-term Nurturing Sequences:
In ActiveCampaign, it is possible to break long-term nurturing sequences, which leads are added to when the short-term sequence is completed. The short-term sequences are educational in behavior, making the leads aware of webinars, relevant interviews, blog posts, and other resources that help develop knowledge while positioning ventures.
It is possible to segment them to make them relevant for the various sorts of leads entering into the marketing funnel.
As far as long-term sequences are concerned, they are more related to checking leads after certain levels, like 3 months, 12 months, 6 months, and other based on certain behavior indicating about the solution again.
The best thing is that you can establish a goal for nurturing sequences to convert leads into sales and convert leads into qualified leads for marketing based on the lead scoring system. It helps in separating the leads from those, which are presently cold.
2. Using Automation and Goals Split Tests for Refining Email Sequences:
There was a unique feature announced by ActiveCampaign in 2016, which is email automation using split testing.
Though there is nothing new about email split testing, but a few marketing automation tools let you split test emails, which are an aspect of the automation sequence, and ActiveCampaign is one of them.
It means that the automated email sequence can get better with time as you can establish unlimited split tests for refining the email over time as more data is captured.
This is something new offered by ActiveCampaign and manages to enhance the open rates of email campaigns to a great extent.
3. Using Reports to Determine When you Gain the Highest Open Rates:
One amazing thing about ActiveCampaign, which really impressed me, is that it boosted the overall performance of email marketing by 10-15%. It was the open rate report feature by ActiveCampaign that allows identifying the hours and days the emails get the highest open rates.
This information can be used to integrate 'waits' in the marketing automation sequence so that vital emails were sent when the open rates are higher than the average.
4. Using Goals for Identifying Time Taken by Someone to Take an Action:
ActiveCampaign can let you know the average time someone takes to reach a specific point in the automation sequence. This automation sequence is triggered in Leadformly when a person signs up and then does not becomes a paid customer.
ActiveCampaign lets you know the average time for completion as well as the completion rate. The same can be used for identifying the percentage and time taken for the customer to provide a review, the percentage and time taken for a user to upgrade or purchase a novel product, and more.
5. Design Hyper-Personalized Emails Using Conditional Content:
We can use a lot of data in ActiveCampaign to personalize the content. This can be done using the conditional content feature that allows personalizing content in email campaigns based on certain rules.
The personalized email created on the basis of conditional content delivers a high response rate, which is great for an automated email. Even, it offers a lot of appreciation from people who have identified the automation process and are still impressed.
6. Sending the Same Email with Different Subject Line to Those Who Didn't Open the First Email:
This is another great aspect of ActiveCampaign that lets you send the same email with varying subject lines to people who didn't open it the first time. This helps in increasing the overall campaign engagement rate by 10-20%. You can also filter out customers to send the email again only to those who didn't open it the first time.
It implies that every person who did not open the first email because of timing or any other issue may open it the second time. Though the rate of opening might not be as high as it is for the first time, still, a few of them will open it, which will ultimately increase the overall rate.
7. Sending Follow-Up Emails to Those Who Don't Engage:
When a person opens the email but does not click through to the offer, it implies that the offer does not seem right to them.
ActiveCampaign lets you design a follow-up campaign for people who are asking them and were not attractive. Or you can ask them for something else, which they might be looking for.
8. Get Personalized Feedback Using Email Surveys:
Using ActiveCampaign, you can perform email surveys asking relevant questions to customers to gain personalized feedback.
So, you see how ActiveCampaign works for Marketing Automation. Let's check how it works for Customer Success.
ActiveCampaign – Customer Success:
ActiveCampaign is a promising tool for customer success. Some of the ways it can be utilized are:
1. Managing Clients Utilizing Deal Pipelines:
To see what the new customers are within the onboarding process, we use the deal pipeline functionality of ActiveCampaign. This is ideally useful for managing the sales pipelines; it functions well for managing processes, which has a well-defined set of steps such as onboarding.
It is possible to create automation sequences for automatically moving clients between different steps of the pipeline on the basis of what pages they visit or events they refrain from.
2. Gathering Score for Net Promoter:
It is not convenient to collect the NPS score in ActiveCampaign. The process can be struggling initially. But now there have been a few advancements made to ActiveCampaign, which has centralized the entire process. This made it easier to collect NPS and create an NPS pipeline to visually check customers as passives, detractors, promoters, or responders.
3. Automated Training and Onboarding Clients:
For educating the clients and making them highly successful, we integrate our customers into a 7-day sequence for onboarding. This reduced feed as a series of videos, tutorials, and white papers, which can be used for learning our software and achieving better results from the lead capture form.
It is a great process that is highly supportive and means that all questions can be answered in the tutorials, which have become support emails or tickets. Also, clients can achieve better results using these forms.
4. Automated Cancellation Sequences for Clients:
When a customer cancels their requests or accounts, a refund for ventures, it is vital to know what caused the same. The ActiveCampaign automatically triggers a sequence, which asks customers about their reason for leaving and then removing or adding them from relevant sequences and lists.
5. Automating Employee Onboarding:
When a new employee joins, it triggers an action that ensures all novel employees possess a regular onboarding experience and aligns with the bigger picture goals and vision of the company. It is possible to regularly fine-tune the details shared with novel employees during the first few weeks as efficiently as possible.
6. Automatically Filtering the Bad Applicants for Job:
You don't have to read each CV for filtering out the applicants. You can ask candidates that apply for a job from our site for completing a short quiz, which tells them more about how they rectify problems.
More than half of people applying for the quiz instantly rules the 50% bad-fit candidates. At the day end, if you don't wish to complete the quiz, you are not the correct fit.
Also, it gives a lot of details about candidates. Like, what are the last three non-fiction books you require? It is perhaps the most insightful question that reveals a lot about the person.
The quiz is sent to them through the marketing automation sequence that frees up hours of regularly emailing forth and back with potential candidates, and makes sure that we consider the best applicants to come for the interview.
7. Automating Emails, Which You Don't Want to Send:
If you don't want to chase up invoices, and still, want the invoices to be paid on time, there are always fees that require two or nudge. In this scenario, you can send a 'no-reply' email to the preferred email address and depersonalized the message and came across more of them as an alert rather than the person asking for the invoice to get paid.
This is not only effective, it also means stop sending the email, which can save a lot of time.
Is it worth using Active Campaign or Not?
ActiveCampaign is full of comprehensive tools and is perfect to use by small businesses and single business owners on a daily basis. It comes at competitive prices and the best thing is that it offers a 14-day free trial, which I suggest to start with. This platform is worth trying and is you like the overall experience you can switch to the paid version without getting disappointed. Hope this extensive review has helped. Hope ActiveCampaign is a perfect fit for your business and marketing campaign.